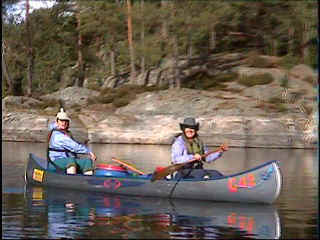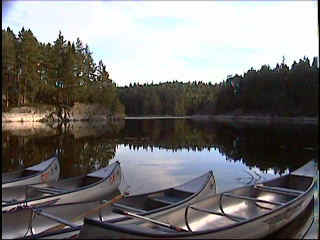 Canoe Journeys in Dalsland, Sweden
With their combined 30 years detailed knowledge of the semi wilderness of the Dalsland Lakes, Paul Lethebee and Jim Davis will be able to take you to places (missed by those who don't have their experience) where you will have the chance to see Ospreys, Moose, Beaver and other rarely seen wildlife. Join one of our fully guided and/or catered trips and explore this unspoilt semi wilderness.
Canoeing in Comfort
Now taking bookings for 2023
Read this trip log to get a taste of what there is to do and see.
View Video (3.5 minutes/8.7Mb), pictures from our scrapbook or, if you want to have a family trip, see Family pics
Paul and Jim place great emphasis on canoeing in comfort. They will show you all sorts of ways to make yourselves more and more comfortable while you canoe, camp, relax or whatever. You will be looked after, cooked for, coached in and supported in learning all sorts of skills and most importantly will be encouraged to relax and enjoy yourselves on these beautiful lakes. The number of people we sight typically during a journey ranges from 6 to 20 and most of these are in the distance!
Skills: It is not necessary for you to have any water skills prior to a journey. However, it is important that you will be able to be comfortable sitting in a canoe for up to an hour and a half at a time, as well as be calm in the event of an involuntary swim. If you have any doubts about this, you should reconsider the appropriateness of a journey. Canoeing uses more coordination than strength so there will be no need for you to have anything other than a reasonable level of fitness. There are many skills that will be demonstrated and used throughout a journey, some of which are canoeing skills while others are related to living with nature. A key objective for a journey is to see how comfortable we can be and we shall be exploring skills that contribute to this.
Sample Cost Example: 6 day/5 night journey starting and ending at Dals-Ed, Dalsland, Sweden. - from GB Pound Sterling 1175-00 - inclusive of canoe, barrel, buoyancy aid, paddle, and tent hire, food, safety cover, instruction, National Park fees, canoe shuttle service, but exclusive of personal insurance, alcoholic drinks & travel to Dals-Ed, Sweden.
Travel: You would normally use your own arrangements to travel to Sweden. We suggest a flight from the UK to Göteborg and then a transfer to Dals-Ed (@180km due north of Göteborg) by train/bus. A minibus option for groups may be available, but would need to be specified at the time of booking. You may choose to extend your stay in Sweden either with a stay in Dals-Ed or with a visit to Göteborg or Stockholm at the beginning or end.
Documents: You should ensure you have a valid passport (and visa, if applicable for non-EU citizens) for the period of the journey + six months or onger as required. If you are an EU citizen, you are advised to have an E111 card.
Health: Covid legislation in the UK, the EU and Sweden must be followed. A confidential medical questionnaire must be completed, returned and received prior to a booking being accepted. Insurance is NOT covered in the cost. If you do not already have relevant cover, you may want to look at SNOWCARD or other providers who can offer a range of options. Whilst there will be a first aid kit on the trip, we would recommend that you pack any personal medication that you may require. There will be NO opportunities to purchase anything once afloat.
Safety and Emergency Procedures relevant to our activities have been identified, are available prior to booking, and will be introduced and/or practised at the relevant times.
Itinerary: Any proposed itinerary is an outline which will be followed subject to environmental factors, the most obvious of which is the weather. Your safety is paramount. Within this outline, we can be flexible and adapt each day's activities according to personal and group decisions. You will be encouraged to paddle with different partners and in different canoe positions, and may have the option to split into two groups. The Dalsland Lakes provide an integrated opportunity to journey on water and explore the forests and landscapes as well as indulge in bird watching, fishing, geology, botany, sketching/painting, photography, and other country interests according to people's preferences. Identifying your interests on our journey questionnaire will assist us in making your journey more interesting. The campsites we stay at are not at all like conventional sites you might find in the UK. They are mostly on large wooded islands and it is very rare to have neighbours.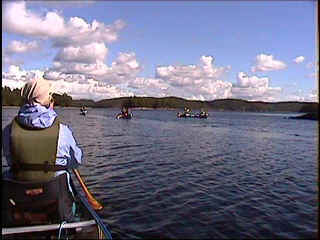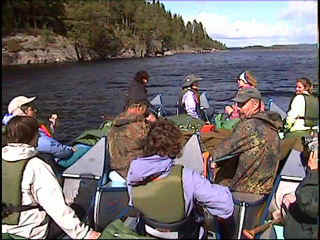 Example Itinerary
The itinerary depends on how and when people arrive and their route, so the following gets adjusted to suit.
Day 1: Once you have arrived at Ed, you will be met and be able to relax after your journey and have tea and cake whilst being introduced to your guides and fellow paddlers. You will be given your own waterproof barrel in which to pack your personal kit and a smaller waterproof barrel for each canoe for 'Day Kit' - windproofs, sun hats, personal stuff. We will then finish packing the canoes, have a general safety briefing and then set off to our first camp site. On arrival, there will be more refreshments and you can choose nice sites for your tents (help available). Meanwhile your guides will be getting the rest of the camp set up and be preparing dinner. After dinner which will be served when you want it, you can relax and chat by the fire. We will outline options for day 2 and you can decide what you would like to do.
Day 2:
0730 Tea/coffee will be delivered to your tent, after which you can have breakfast on lake shore.
0900 More about safety. Looking out for each other, emergency notes, personal equipment, buoyancy aids, embark check list, rafting up, capsize drills, ecological toilets, the forest environment, fires, whistles
0930 The day's plan-
1200'ish Stop for lunch, stretch, explore
1330'ish Resume journey
1530 Locate camp site, put up your tents (help available). Tea and Cake o'clock
1630'ish Treat o'clock Option to relax, snooze, read, draw, fish, gain paddling skills, take photos, explore, swim, camp craft, tree hugging, etc.
1900 Dinner: make your plans for Day 3; time you want to get up, your route to next campsite, etc., etc.
2030 Camp games, night paddle, relax and chat by the fire. Discuss possible plans for day 3. Start rehearsing your epic stories of daring adventure for the folks back home.
We will take the earliest opportunity with as many of you as wish to go on a night or dawn paddle.
Day 3, 4, 5, ..... last night camping: Timings are your choice.
Tea/coffee will be delivered to you. Breakfast- confirm day's itinerary
De-camp, Resume your journey, Stop for drink/snacks and topical background info
Stop for lunch, etc. Resume journey
Locate camp site, put up your tents, Tea and Cake o'clock
Treat o'clock- something you have brought to share.
Dinner: make your plans for next day; Relax and chat by the fire.
You may notice some sculptures on your journey, and you can, if you wish, take the opportunity to express your artistic bent and produce a masterpiece of your own.

Last Day:
0700 Tea/coffee will be delivered to you. Breakfast- confirm day's itinerary
0830 De-camp
0900 Resume our journey
1130 Get picked up and return to Ed
1330 Back at Ed. Comfort first- Shower, Tea and Cake o'clock, pack
This marks the end of your tour. Some will be catching the train, or taking a taxi to their next destination. Those with travel arrangements the next day (Day +) can still stay on site at Canodal for the night and take the short 10min walk up to Ed for their evening meal.


Day +: Jim and Paul will happily provide you with a light breakfast, before you depart for Göteborg or another destination of your choice.

Your Guides
Paul and Jim enjoy the pleasures that travelling on water brings. They have many years of experience of living and working in the countryside and live in the Yorkshire Dales. They hold coaching qualifications awarded by the British Canoe Union covering the skills required for journeying on open water in canoes. Individually they also have other skills in mountaineering, caving, kayaking, sea kayaking and sailing as well as a reasonable knowledge of plants, birds, fish and rocks, etc. With more than one guide, you have the option to split the group some days depending on the weather and have more flexibility and variety in a journey. Your guide(s) will be on hand to coach you in canoeing skills, pass on country skills and respond to your questions and suggestions, without being intrusive.
This guided canoe venture has been developed with our host in Sweden- Bertil Anderson of Canodal. A journey begins at Ed at the Canodal base. There is every possibility that we will travel partly through Norway as the border is quite close. We will be collected from whichever destination is most appropriate and return by road to Ed.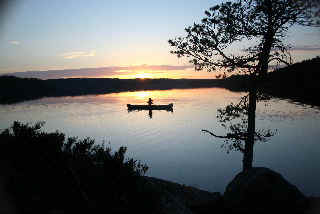 To make an enquiry, please send us a message and we will reply to you.
Home Page